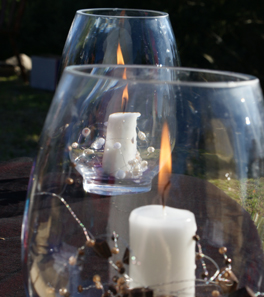 Funeral

Readings

Some ideas to get others involved in remembering your loved one by reading special passages.

The Dash.


by Linda Ellis copyright 1996


I read of a man who stood to speak
at the funeral of a friend.
He referred to the dates on the tombstone
from the beginning... to the end.


He noted that first came the date of birth
and spoke the following date with tears,
but he said what mattered most of all
was the dash between those years.


For that dash represents all the time
that they spent alive on earth.
And now only those who loved them
know what that little line is worth.


For it matters not, how much we own,
the cars... the house... the cash.
What matters is how we live and love
and how we spend our dash.


So, think about this long and hard.
Are there things you'd like to change?
For you never know how much time is left
that can still be rearranged.


If we could just slow down enough
to consider what's true and real
and always try to understand
the way other people feel.


And be less quick to anger
and show appreciation more
and love the people in our lives
like we've never loved before.


If we treat each other with respect
and more often wear a smile,
remembering that this special dash
might only last a little while.


So, when your eulogy is being read,
with your life's actions to rehash...
would you be proud of the things they say
about how you spent YOUR dash?


One at Rest

Think of me as one at rest for me you should not weep,
I have no pain no troubled thoughts for I am just asleep.
The living thinking me that was, is now forever still.
And life goes on without me as time forever will.
If your heart is heavy now because I've gone away,
Dwell not long upon it friend for none of us can stay.
The answer to life's riddle in life I never knew,
I go with hope that now I will and even so will you.
Oh, foolish, foolish me that was, I who was so small,
to have wondered even worried at the mystery of it all.
And in my fleeting life span, as time went rushing by,
I found some time to hesitate, to laugh, to cry.
Matters it now if time began, if time will ever cease?
I was here, I used it all and now I am at peace.

Miss Me - But Me Go

When I come to the end of the road
And the sun has set for me,
I want no rites in a gloom-filled room,
Why cry for a soul set free!
Miss me a little - but not for long
And not with your head bowed low.
Remember the love that we once shared,
Miss me, but let me go.
For this journey that we all must take
And each must go alone;
It's all a part of the Master's plan
A step on the road to home.
When you are lonely and sick at heart
Go to the friends we know,
And bury your sorrows in doing good deeds.
Miss me, but let me go.
- Edgar Albert Guest (1881-1959)

Life Is But A Stopping Place

Life is but a stopping place,
A pause in what's to be,
A resting place along the road,
to sweet eternity.
We all have different journeys.

Different paths along the way,
We all were meant to learn some things,
but never meant to stay...
Our destination is a place,
Far greater than we know.
For some the journey's quicker,
For some the journey's slow.
And when the journey finally ends,
We'll claim a great reward,
And find an everlasting peace,
Together with the lord

Time Will Ease The Hurt

The sadness of the present days
is locked and set in time,
and moving to the future
is a slow and painful climb.

But all the feelings that are now
so vivid and so real
can't hold their fresh intensity
as time begins to heal.

No wound so deep will ever go
entirely away
yet every hurt becomes
a little less from day to day.

Nothing can erase the painful
imprints on your mind
but there are softer memories
that time will let you find.

Though your heart won't let the sadness
simply slide away
the echoes will diminish
even though the memories stay

If Tomorrow Starts Without Me - David Romano

If tomorrow starts without me, and I'm not there to see,
If the sun should rise and find your eyes all filled with tears for me;
I wish so much you wouldn't cry the way you did today,
while thinking of the many things we didn't get to say.
I know how much you care for me, and how much I care for you,
and each time that you think of me I know you'll miss me too;

But when tomorrow starts without me, please try to understand,
that an angel came and called my name and took me by the hand,
and said my place was ready in heaven far above,
and that I'd have to leave behind all those I dearly love.

But as I turned to walk away, a tear fell from my eye,
for all life, I'd always thought I didn't want to die.
I had so much to live for and so much yet to do.
it seemed almost impossible that I was leaving you.
I thought of all the love we shared and all the fun we had.
If I could relive yesterday, I thought, just for a while,
I'd say goodbye and hug you and maybe see you smile.

But then I fully realised that this could never be,
for emptiness and memories would take the place of me.
And when I thought of worldly things that I'd miss come tomorrow.
I thought of you, and when I did, my heart was filled with sorrow.

But when I walked through Heaven's gates, I felt so much at home.
When God looked down and smiled at me, from His great golden throne,
He said, "This is eternity and all I've promised you,
Today your life on earth is past but here it's starts anew.
I promise no tomorrow, but today will always last.
and since each day's the same, there's no longing for the past.

But you have been so faithful, so trusting, so true.
Though there were times you did some things you knew you shouldn't do.
And you have been forgiven and now at last you're free.
So won't you come and take my hand and share my life with me?"

So if tomorrow starts without me, don't think we're far apart,
for every time you think of me, please know I'm in your heart.

A Prayer for the Dying - Starhawk

Time has passed, the Wheel has turned.
It is time for you to move on.
You will walk hand in hand with the Ancient Ones,
and with your ancestors who came before you.

Great Mother, welcome him/her back into your womb,
She comes to you and knows she is blessed,
for her life has been one she is proud of.
As she enters your world, wrap her in your loving arms,
and welcome her.

Lord of Death, She waits for you to take her,
She comes to you willingly, with eyes wide open,
as her last moment approaches on the horizon.
May she look upon you without fear, without pain,
and knowing that those who walked before her,
await her on the other side.

O Ancient Ones, give her strength to take these final steps,
and allow her to do so with peace and dignity.
Let her family mourn her passing but not her loss,
and let them heal knowing she will see them again.
Time has passed and the Wheel has turned.
It is time for her to move on.

Stop all the Clocks - W. H. Auden

Stop all the clocks, cut off the telephone,
Prevent the dog from barking with a juicy bone,
Silence the pianos and with muffled drum
Bring out the coffin, let the mourners come.

Let aeroplanes circle moaning overhead
Scribbling on the sky the message He Is Dead,
Put crepe bows round the white necks of the public doves,
Let the traffic policemen wear black cotton gloves.

He was my North, my South, my East and West,
My working week and my Sunday rest,
My noon, my midnight, my talk, my song;
I thought that love would last for ever: I was wrong.

The stars are not wanted now: put out every one;
Pack up the moon and dismantle the sun;
Pour away the ocean and sweep up the wood.
For nothing now can ever come to any good.

Quotes

I realized that I had died and been reborn numberless times but just didn't remember because the transitions from life to death and back are so ghostly easy, a magical action for naught, like falling asleep and waking up again a million times, the utter casualness and deep ignorance of it. -Jack Kerouac

"I want to die peacefully in my sleep, like my father, not screaming and terrified like his passengers". Bob Monkhouse

"To begin depriving death of its greatest advantage over us, let us adopt a way clean contrary to that common one; let us deprive death of its strangeness, let us frequent it, let us get used to it; let us have nothing more often in mind than death... We do not know where death awaits us: so let us wait for it everywhere."

"To practice death is to practice freedom. A man who has learned how to die has unlearned how to be a slave." - Michel de Montaigne

For Information regarding Pagan/Wiccan Last rites, Rituals or separate memorials, ideas, information and readings, please click one of the links below.