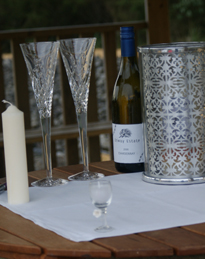 Wine

Ceremony

A first toast as husband and wife - the perfect beginning to your journey.

Don't let the name deceive you - this ceremony doesn't have to be a toast with wine. Any alcoholic or non alcoholic drink is fine. Champagne, white wine, juice, cider, even water can all be used. The only caution I have is with red wine or darker juices - spill some of that on the brides beautiful dress and the reception will really start with a bang.

If you are getting married at a winery, why not use one of their own produce to toast one another, Maybe a favourite bottle of your family, or your own. Even a snifter of brandy will do - believe me, I won't let you get tipsy, you can save that for later.

One wine wedding ceremony is to pour a glass of wine, talk about its aging and mellowing and about sharing wine together, then each the bride and groom drink from it. Couples can pass the wine glass to their family members as a remembrance of the history of their families, now united.

This is an example of a Wine Ceremony

Nicole: It is the goal of marriage to achieve a blending of hearts and lives-but let there be spaces in your new life together, so that each may encourage and nurture the individual growth of the other. Even so, your separate lives will become one life; your separate homes, one home, your separate fortunes, one fortune.

Over the horizon of the future, there comes toward you even now, hours of brightness and hours of shadow, for such is the nature of life.

Pick up the goblet of sweet wine.

When hardship and sorrow and disappointment come, of which this drier wine is a token, may you care enough to help one another with courage and compassion, neither one blaming the other for folly or failure, or regretting the obligation of marriage to share and bear together the chances and changes of a life deeply lived.

Pass goblet to Bride, who drinks and passes it to Groom, who drinks and passes it back to Nicole. Return goblet to table and pick up goblet of dry wine.

Life has many bright and happy experiences, of which this sweet wine is a token. As you drink of it together, may it serve as a symbol of the joy that comes with loving and sharing, and may your happiness be tempered with gratitude and modesty and a bountiful sympathy for those who are less fortunate than you.

Pass goblet to Groom, who drinks and passes it to Bride, who drinks and passes it back to Nicole.